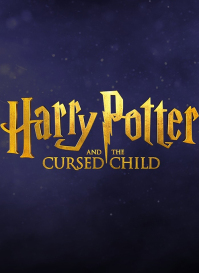 Official Website
Press Materials
Harry Potter and the Cursed Child
WINNER! Six Tony Awards including Best Play
Harry Potter and the Cursed Child is now playing at the Lyric Theatre (214 West 43rd Street, NYC).
Contact: Adrian Bryan-Brown | Heath Schwartz | Angela Yamarone
Purchase Tickets
Harry Potter and the Cursed Child, the first Harry Potter story to be presented on stage, has sold over 4.5 million tickets worldwide and holds a record 60 major honors, with nine Laurence Olivier Awards including Best New Play and six Tony Awards including Best New Play.
Based on an original new story by J.K. Rowling, Jack Thorne and John Tiffany, Harry Potter and the Cursed Child is a play by Jack Thorne, directed by John Tiffany.
Harry Potter and the Cursed Child features movement by Steven Hoggett, set by Christine Jones, costumes by Katrina Lindsay, music & arrangements by Imogen Heap, lighting by Neil Austin, sound by Gareth Fry, illusions & magic by Jamie Harrison, music supervision & arrangements by Martin Lowe. US Casting by Jim Carnahan, CSA.
Harry Potter and the Cursed Child is produced by Sonia Friedman Productions, Colin Callender and Harry Potter Theatrical Productions.
"Harry Potter and the Cursed Child is one of the most defining pop culture events of the decade" (Forbes).
Adventure runs in the family. When Harry Potter's head-strong son Albus befriends the son of his fiercest rival, Draco Malfoy, it sparks an unbelievable new journey for them all—with the power to change the past and future forever. Prepare for a mind-blowing race through time, spectacular spells, and an epic battle, all brought to life with the most astonishing theatrical magic ever seen on stage. "You'll be wondering 'how'd they do that?' for days to come" (People Magazine).
Experience the wizarding world like never before from the moment you arrive. The entire theatre has been transformed with hidden surprises to discover around every corner. "It's a marvel of imagination, as magical as any spell or potion" (The New York Times).